Vintage Spice Containers
If there was anything at all that sparked my interest at the Country Living Fair in New York, it was the vintage spice containers.
Unlike my regular spice boxes, they come from a different time and they brought a touch of class to my kitchen which I couldn't get with newer models.
Vintage spice containers or antique spice tins are a type of kitchenware that serve with temporary storage of spices and other small cooking items. 
Compared to regular spice containers, vintage spice boxes usually come in dated materials from an older manufacturer with design patterns and styles from a previous era.
Although I found many other items of interest during my search, the vintage spice boxes came in an ultra-beautiful, rustic build and brought memories of a different time.
Honestly, I find that vintage boxes are more defined, more calming, and offer more unique features for reliving moments embedded in vintage products.
If you'd ask me why, I'd say firstly because we don't have so many things that remind us of old times and designs these days.
Secondly, because vintage spice containers are genuine artifacts and remind us of earlier traditions and they can also store a lot of value for you.
Personally, spice containers helped me to recreate significant memories of my grandmother's kitchen and adding that vintage touch of spice containers to my kitchen.
Isn't it just amazing how something so dinky as a vintage spice container can take you right back to an amazing moment?
Vintage spice containers: What are they?
To start with, vintage spice containers or antique spice tins are rustic artifacts that help you store your spices and prevent them from external contaminants. 
Are you tired of stocking up your kitchen with the latest China wares or thinking of upgrading your kitchen to something left field or classy?
Vintage spice boxes can help!
Going vintage is awesome because you get the opportunity to create a unique kitchen and ambience that's engineered to deliver your the best possible value in life.
Also, they help you to organize your spices appropriately and conveniently find them whenever you need them.
With storage, the idea is to place it right beside your cooking gas or stove so you're able to create your dishes in a way that organizes the spices that you commonly use. Isn't that incredible?
However, while some antique spice tins come in set with each jar carrying a different hand-painted look that reflects the spices, some aren't even transparent enough to reflect the images of what it's carrying. 
Also, some vintage spice containers come with handles for easy holding and pouring of spices while some do not. Nevertheless, they mostly serve
You can check vintage spice containers on Amazon here
Vintage Spice Container: Why would I want one?
Well, for one they bring beauty to your kitchen. Having a kitchen that looks good and feels nice may seem like a waste of time but if you've got visitors or have to entertain a party, a kitchen that looks up to scratch really helps.
Also, vintage items are generally slightly older with design patterns that are out of circulation and so, if they come in the right type of material, you can resell them at a fairly high price. The trick here is to find a vintage spice box that has a great story you can sell.
They're just as comfortable as the newly minted ones but usually cost less to purchase. In my experience, I've found some of the best vintage containers at yard sales and other low cost market type situations. You'll have to keep a sharp mind though!
Besides, vintage Items are generally durable. Usually, at the point of purchase, they've been around for a few decades and so, they'll easily last for many more as they're made out of durable material by definition.
Finally, vintage spice boxes usually come complete with a unique history that you can leverage at parties for conversation or as a way to break the ice.
Personally, I've found much value in my 1950s casino-themed highball glasses and also a '50s-era tea kettle in which is displayed on my dining table to give off a more luxurious look.
I bought these items at a yard sale for 25 cents each and trust me, they've added a magical touch to not only my kitchen atmosphere but my entire home ambience. Why wouldn't you want one for your home?
Vintage Spice Containers: What are they made of?
This depends on what you're looking for and what you're lucky to find. For the most part, you won't find many of these items on Amazon or the other large retail websites.
However, you may have some luck with speciality websites such as Actieo and Etsy that stock niche, specialty items all year long. That said, you can get vintage spice boxes in glass, copper, ceramic, metal, or wooden frames
Although the materials come with different life spans, vintage spice boxes are generally made to last and so, you're likely to get as much value from a wooden container as you would from brass.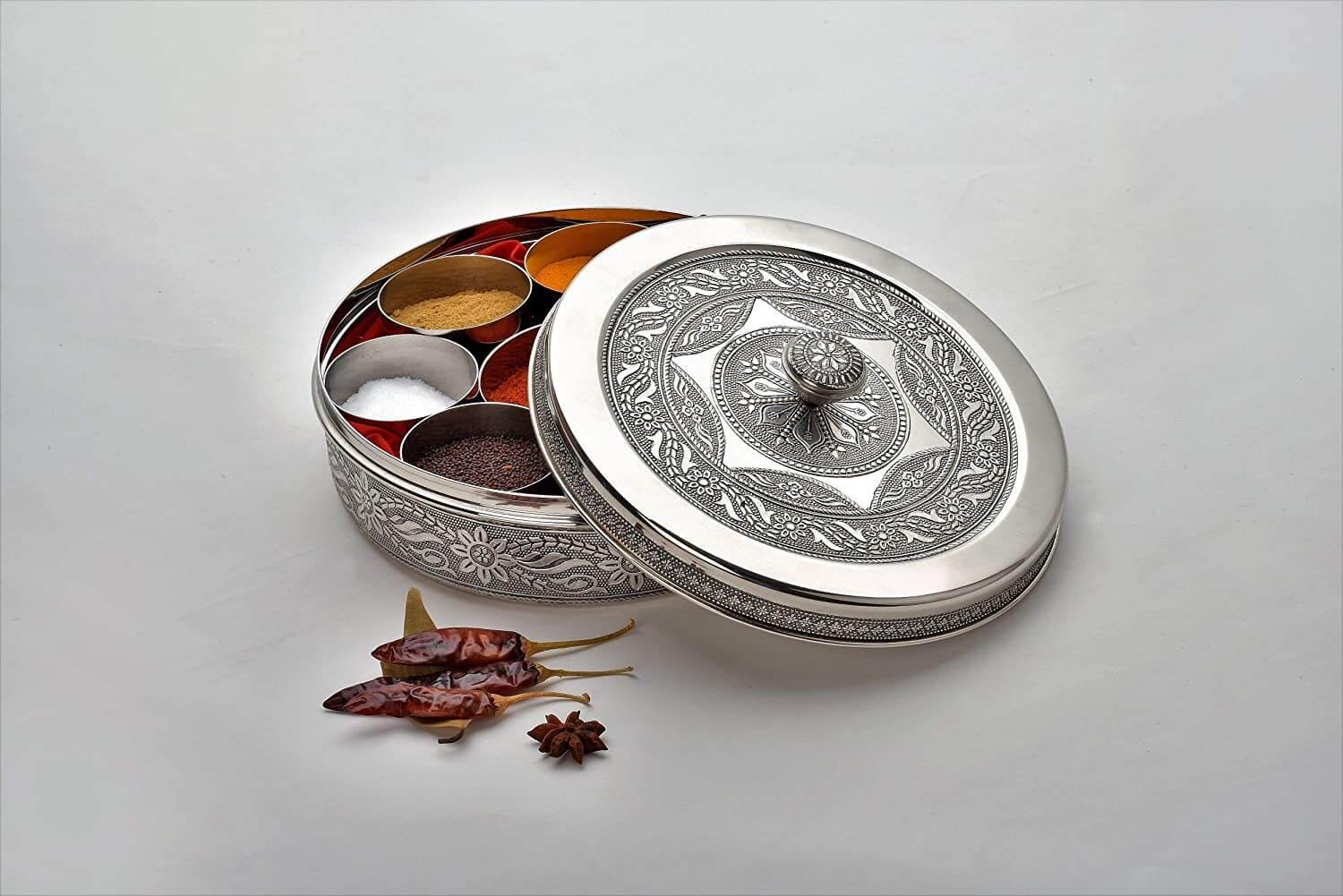 Conclusion and Summary
If you're looking into luxury items or are just about to take your first steps into the world of antique shopping, antique spice tins are a great place to start. 
Whether you're thinking vintage, or just good old good looks, you should know, spice boxes are no exception. If you're willing to spend a few hours looking, you'll get a ton of value.
Vintage spice boxes are great because they add a touch of beauty and last very long. Also, they're generally cheap to acquire and they also look bomb.
Whether you're furnishing your home or trying to spice up your kitchen, vintage boxes will serve just fine all year long.