Are Magnetic Spice Jars A Good Options for Your Kitchen?
First of all, isn't it great that it's possible to carefully arrange your spices in a jar and stick them to your fridge or any metallic surfaces in your home?
When I think about how chaotic it gets when I'm making meals, I fantasize about how much time and energy a tool such as this one will save me.
Although I'm a bit of a traditionalist, when it comes to spices, I'm always hyper-aware of how new technologies can make my kitchen time more productive and a little less stressful.
In a nutshell, magnetic spice jars help you store your spices by using magnets to hold them to any steel surface of your choice.
If your goal is to save space and create a novel and astonishing display through your spices, then the magnetic spice jar is for you.
More About The Cool Magnetic Spice Jars
Most times, the magnetic spice storage jars are the perfect storage solutions for storing all of your spice, in that each of them comes between 6-15 jars, magnetic lids, and blank labels.
These labels allow you to customize your spices by writing out different spice names contained in each spice jar so as to differentiate them from one another.
Depending on the type of spice jars you're ordering, the number of labels and jars could differ but it's nothing to brood over.
These magnets have an ultra-strong neodymium feature that secures the jars whenever they're being attached to a surface.
This way, you can rest assured that your spices will be intact when you wake. To stick these magnetic spice jars to any surface, you have to make sure that the lid is fully screwed onto the jar.
Also, once you make the purchase, you may decide to place the magnet either on top of the lid or just under the jar. This decision depends on how you want your magnetic spice jars to look in your kitchen.
Is The Magnetic Spice Jar Better Than My Regular Masala Dabba?
For me, it's always been a matter of values and use cases when it comes to giving advice like this. You'll need to take some stock of your current lifestyle, work, kitchen space, frequency of meal preparations and other variables such as this to come to a helpful conclusion.
Generally speaking, I'd buy one of these if I had my fridge in the kitchen and reach for it whenever I felt like a little spice. If my young son was still home, I'd probably get one to keep my spices away from him as well.
If you've got a small kitchen and need to get the best value for every square inch, the magnetic jar will also serve pretty well for you.
Otherwise, being as traditional as I am, I'd probably stick with the beautiful stainless steel ones I found on Actieo. If you're searching for some clarification, the next section should help.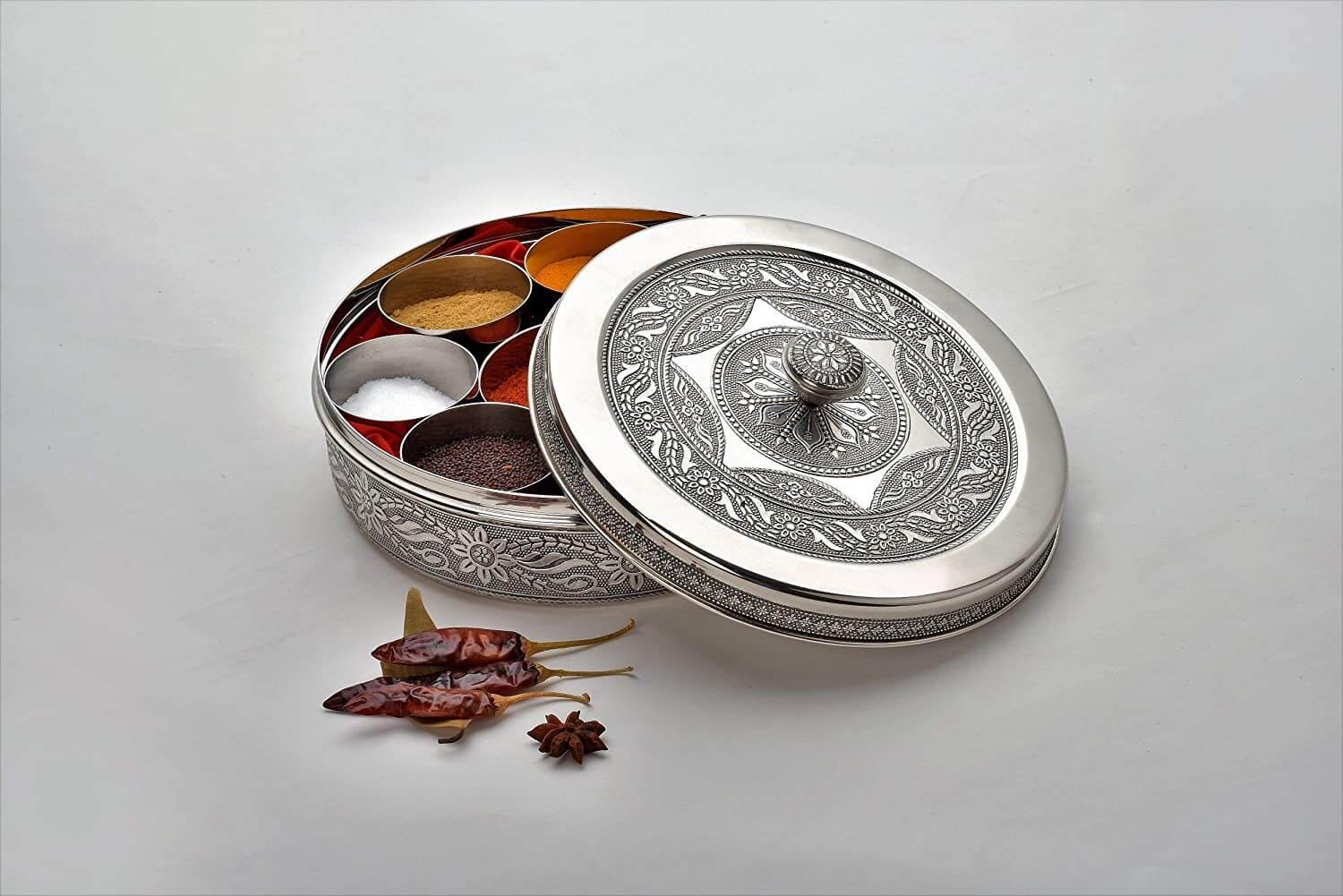 Other Cool Applications Of The Magnetic Spice Jars
In fact, some magnetic spice jars are great spice storage solutions for mobile homes such as RVs and homes. This implies that you can carry your magnetic spice jars with you anywhere your home is!
Are you traveling via a boat or you're having a vacation on the RV? Worry less, the magnetic spice jars let you carry your favorite spices with you anywhere you go.
Furthermore, the magnetic spice jars come in different shapes and sizes. While some are circular in shape, others are usually hexagonal.
Depending on your decision, you can hang the measuring spoons right next to your jars on your fridge or just mount them on your wall.
Again, the magnetic spice jars have a sprinkler included to the sides of the jars. This sprinkler gives ways for easy sprinkling of spices into your food during or after cooking.
If you're hosting cookouts for family and friends regularly and need your spices to stay close to you, it's a good idea to get yourself a magnetic spice jar.
If you're a chef, or work as a cook in an industrial kitchen, you'll need to use exact quantities whenever you're using spices.
It'll please you to learn that some magnetic spice jars come with a cooking conversion chart. These charts ensure that you're always on point whenever you're converting units for special recipes and the like.
Not only can you store spices in a magnetic spice container, you can as well store your herbs and other seasonings of your choice in them as magnetic spice jars serve the multi-purpose function.
Magnetic spice jar v Stainless steel v Wooden spice v Glass Spice jars
If the following are important to you, then a magnetic spice jar is the best option;
Saving kitchen space
Ease of use
Outdoor cooking
Industrial cooking
Rust free
If the following variables are important to your, then a stainless steel is the best option to consider;
Durable
Airtight lead
Easy wash
Labelled canisters
Non-absorbent of spice residues
If the following variables are important to you, you should consider wooden spice boxes;
Cheaper
Traditional
Aesthetic
If the following variables are important to you, consider the glass spice jars;
Luxurious
Expensive
Aesthetic
Air tight
Non-absorbent
Wooden Spice Box or Stainless Steel Indian Spice Box: Which Is Better?
Conclusion
Magnetic spice jars take the stress out of spice storage and accessibility.
They're also reasonably priced and serve well if you're always travelling, have small children or just like them for ease and access.
In the sections above, I've detailed some of the most common applications for magnetic spice jars as well as a comparison with the other models on the market that you may find helpful.
Whatever you do, make sure to do some research before you make your purchase so your experience is as enjoyable as possible. Take care and enjoy!