Are You Scrolling To Find Out About What Goes Into Your Indian Spice Container aka Masala Box? 
Then, you're on the right page. As an Indian food lover, I always put into consideration my favorite Indian recipes before opting for my best-of-the-best spices.
For many people, finding the right spices and storing them properly in hygienic, stylish and accessible ways is a struggle. For me, it was difficult to get the very best of home-cooked meals when I had to rely on regular seasoning.  
Why? Other than the sheer variety of delicacy within the Indian tradition, it was tough to keep up with all the stuff I needed to add to my meals to make them taste right and so, for me, MSG was easier and cheaper than anything else. 
However, having bought my spice box from Actieo, with all the luxury it affords, It's much easier to buy my spices in bulk as I know that there's a reliable means of storage and these days, I add my spices to everything; from my tea, to bread and baked goods and even to my foreign stews.
So far, I've found my Indian spice box to be a great complement to good cooking and I'm certain that it'll be the same and even more to yours too. 
A Quick Guide: What is Masala Box? 
Masala Box is a circular spice box and it includes 7 dinky cups, a lid, and a spoon for your primary spices. 
It is mostly seen in Indian homes but with the changing trends of each day, non-Indians are beginning to make vital use of it too. 
I shouldn't forget to add that the Masala Box comes complete with compartments for various assorts of spices originating from different regions and families. 
For its deep cultural significance and value, it is passed from generation to generation in many Indian homes but if you choose, you can buy a new one every few years. 
Now, having learnt about my experience and gotten a sense of the Indian spice box, it's important to learn a little about the spices that live in a Masala box. 
Where To Buy Masala Box? 
My first Masala box came from Anjie, my Indian colleague, who gifted me my first spice box during the holidays and since then, it's the gift that has been most useful to me. Thankfully, she left me a note about how to get spices and who to shop them from. 
You can buy below Designer Indian Spice Container Masala Box from here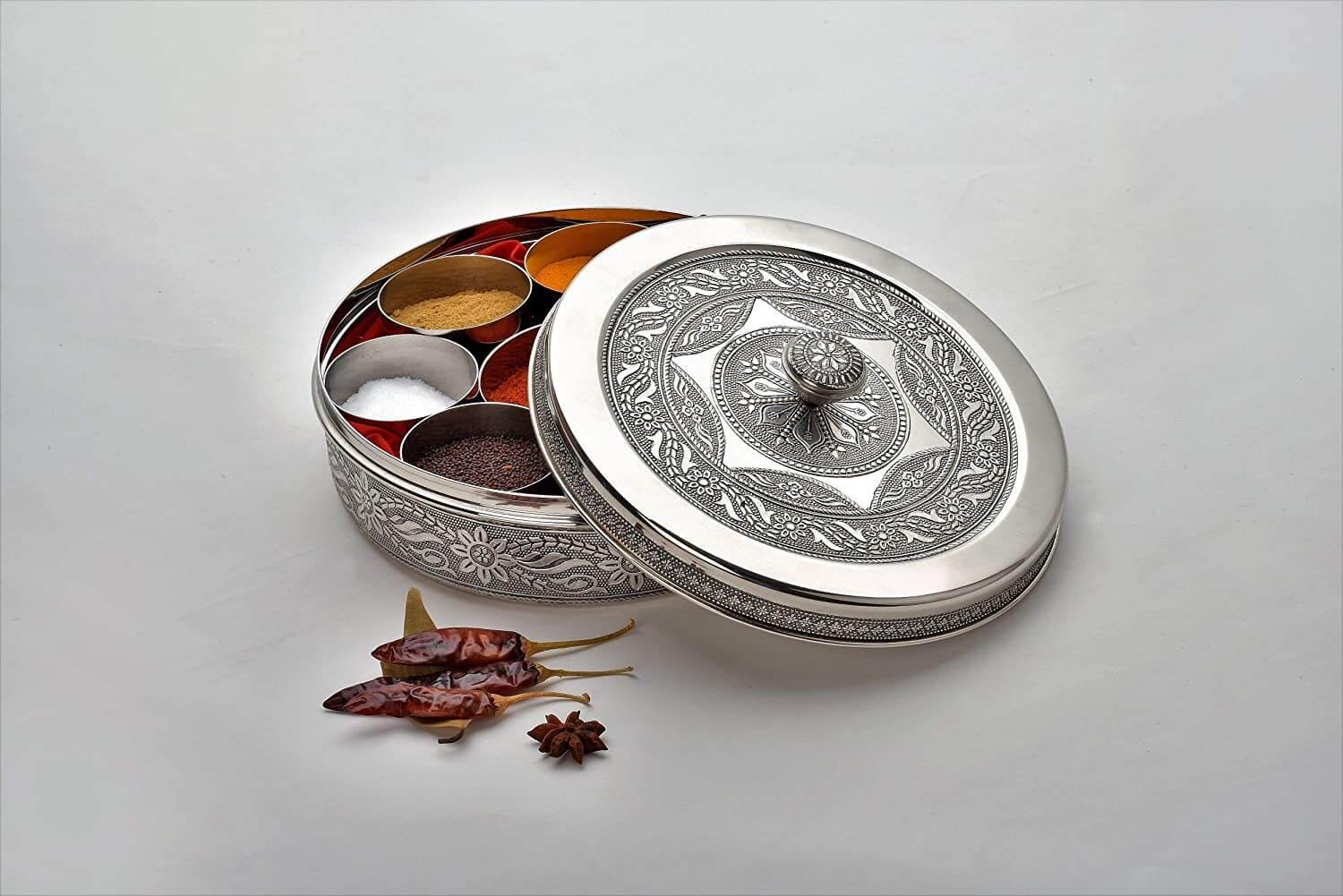 What Spices Are In Indian Spice Box? 
Some of the Indian spices include: Mustard seed, Cumin seeds, Garam Masala, Coriander, Asafetida, Red Chili powder, and Black Mustard seeds. 
Asafetida:
Asafetida is also known as Hing is a dried and powdered tree resin. This spice is a beneficial spice and it was the first aromatic added to oil.
With just a pinch, its raw and sloping scent quickly transforms into a soothing fragrance, giving excellent umami flavors to beans, lentils, and vegetarian curries.
Although, asafetida has an element of wheat flour, however, there are gluten-free versions available for lovers of gluten-free products.
Cumin (Jeera):
Jeera is also an essential ingredient in preparing Indian dishes. Cumin adds a nut-like and hearty tang to your favorite dishes. Cumin is great for soups and a pinch of it would spark an earthy tone in your soups. 
Black Mustard Seeds (MOHRI/RAI):
Black mustard seed is quintessential in an Indian Spice Box. Mohri comes from nutty seeds with a strong smell that generates a juicy aroma for your dishes.
Once you drop them into a hot oil, wait for them to frizzle and pop, then watch them make a magical flavor for your dish. Mohri is a great match for many dishes such as curries, chutneys, pickles, and salads.
Ground Turmeric (Haldi):
Ground turmeric is an awesome, medicinal spice that adds a peppery taste and makes your dish pop in a deep gold color.
It is widely known for protecting against inflammation and compliments edibles well, and even drinks. Also, it blends well with curries, fried vegetables, and faces. Yes, you read that right. Ground turmeric blends with faces and it's been used for face masks!
Red Chili Powder ( Sukhi All Kashmiri Mirch):
Since spices are integral parts of some of what makes up India, there are several spices used in Indian cuisine and red chili isn't an exception.
However, I prefer the Kashmiri red chili, either whole or grounded because of its bright red color that gives my food a natural food coloring and yummy flavor.
Coriander (Dhania):
Coriander is an essential spice that has citrus elements and adds warm zest to vindaloo, sambar, rasam, and Malabar curry dishes. The coriander seeds are toasted lightly and then blended with other spices for popular spice blends.
Garam Masala:
It literally means "warm spice mix". Garam Masala is all you need to quit bland cooking. It is a vital Indian Spice Blend that adds a lovely aroma to your dishes. Garam Masala compliments red and green chili perfectly.
When it comes to Garam Masala, every Indian tribe or family has its own version of spices, ranging from five roasted spices to twenty-one roasted spices, depending on the Indian tribe. 
Since it's a spice blend, Garam Masala is great for making other spice blends such as vindaloo, sambar masala, chana masala to mention a few. 
These are the list of my mostly used spices in my Masala Box but you can decide to add other spices to yours such as Cassia Bark, Green Cardamom pods, Ground Cardamom powder etc. 
Where To Buy Indian Spices?
Since I'm a foodie when it comes to Indian foods, I'm often crossed with questions on the best places to buy Indian spices. In truth, I buy most of my Indian spices from Green village spice Brand on Amazon.
Conclusion
If you're new to Indian delicacy, welcome. If not, you better jump in. Maybe you'd rather not and spicy foods are not your jam, getting an Indian spice box is still a must.
Whether you're cooking for your family or catering to a whole community, having an Indian spice box at hand is always useful. Your spices store better, last longer and taste, well, better. 
With superior aeration, spacious storage, easy access and style that's both native to india and global in its appeal.