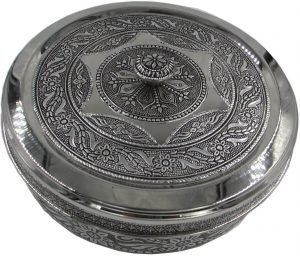 Actieo: About Us
Actieo is the premier source in the world for all your authentic metal crafted items. Our dedicated and authenticated artisans develop all the traditional designs in India.
We have a product designers team, a product manufacturing team, a product development team and product sales and service teams to handle our business around the globe.
If you love Masala or have an interest in trading Indian spice boxes, Actieo is exactly where you need to find yourself. 
We have a dedicated customer service team for your questions regarding a product or order so you're always on the right side whenever you order something. 
What else can you find on Actieo?
Other than the great steel crafts that are easily accessible on the website, you may also shop and request your religious symbols, holy water, world letter, or (and) world languages. 
Currently, Actieo is a Leading manufacturer and exporter of white metal boxes, crafts, and much more and the very best place for your arts, and crafts boxes.
What defines Actieo?
Other than its website which is seamless and simple to navigate, the level of CUSTOMER CARE and post-purchase action is quite simply off the charts. 
If you ever encounter any problems shopping, you're always more than welcome to contact the support team, and we are always happy to help you with all the details, and specifications of your purchase. 
Also, you'll get the very best of authentic Indian knowledge on spices, spice boxes, and all things related to getting the very best value out of every purchase. 
Once you're ready to purchase, you'll find that there's a product page with concise descriptions to help you learn more about what you'll eventually own.
Who Should be excited about Actieo?
Frankly, everyone who's sick and tired of second-rate, unbranded options available on the massive retail websites. If you're a mom or dad and are looking for some high-quality kitchenware, Actieo is the place for that. 
If you're a lover who's looking for a custom-made gift for your loved one, Actieo is exactly the place for you. If you're looking for an exclusive gift for your friend or a guest at a friend's, you cannot go wrong with Actieo. 
Finally, if you're looking for holy items or symbols of worship and antique crosses that you're not likely to find from any of the other online sources, you'll want to send an email and we'll solve your need ASAP. 
How do your products get to you?
If you live in the United States, have no fear.  Refer to our Shipping and Return section for more details.
Once you're ready to be fulfilled, you'll find that there's shipping of all the available products within the United States that are designed to reach you as soon as possible. 
We work with a warehouse in Philipsburg, PA 16866, United States which will deliver all your items to you wherever you are in the U.S.A. Depending on where you live, you can expect to get your items within 2-5 days. 
You'll also get tracking information from its partners at FedEx and UPS so you're always in the know whenever your products are on the move. 
You should know, order fulfilment is completed by a warehouse in PA which Actieo is partnered with to deliver your products. 
What if I find damages on my products?
Honestly, with Actieo it's unlikely that you will but if you do, there are a list of criteria on the website that will be considered if a refund is to be issued. Please contact us here for product purchase details.
The process is as simple as it seems. You send a picture with details about the malfunction and we'll get right on it so you're satisfied every time.