Does The Indian Spice Box Gift Fit Into Your Loved One's Kitchen?
If you're anything like me, you probably have a hell of a time deciding what an appropriate gift is when it comes to family friends or colleagues.
Depending on your knowledge of their tastes, you're probably wondering whether or not an Indian spice box gift will make a good gift idea for them.
If you're struggling with a gifting decision, you should know, you're in the right place.
Just like you, I struggled for a long time with gifting choices but having experienced the genuine wonder of gifting a spice box to different people; from my work friends to neighbours and even my mom on her last birthday, I can't but recommend one regardless.
Over time, the one thing I've learnt as a great lover of Indian food is that the Indian Spice Box goes beyond just preserving spices and sprinkling spices into your dishes.
It is an embodiment of the Indian culture, blended with arts, fragrances and visual aesthetics to create and leave lasting memories of meals shared with love.
What Is The Indian Spice Box All About?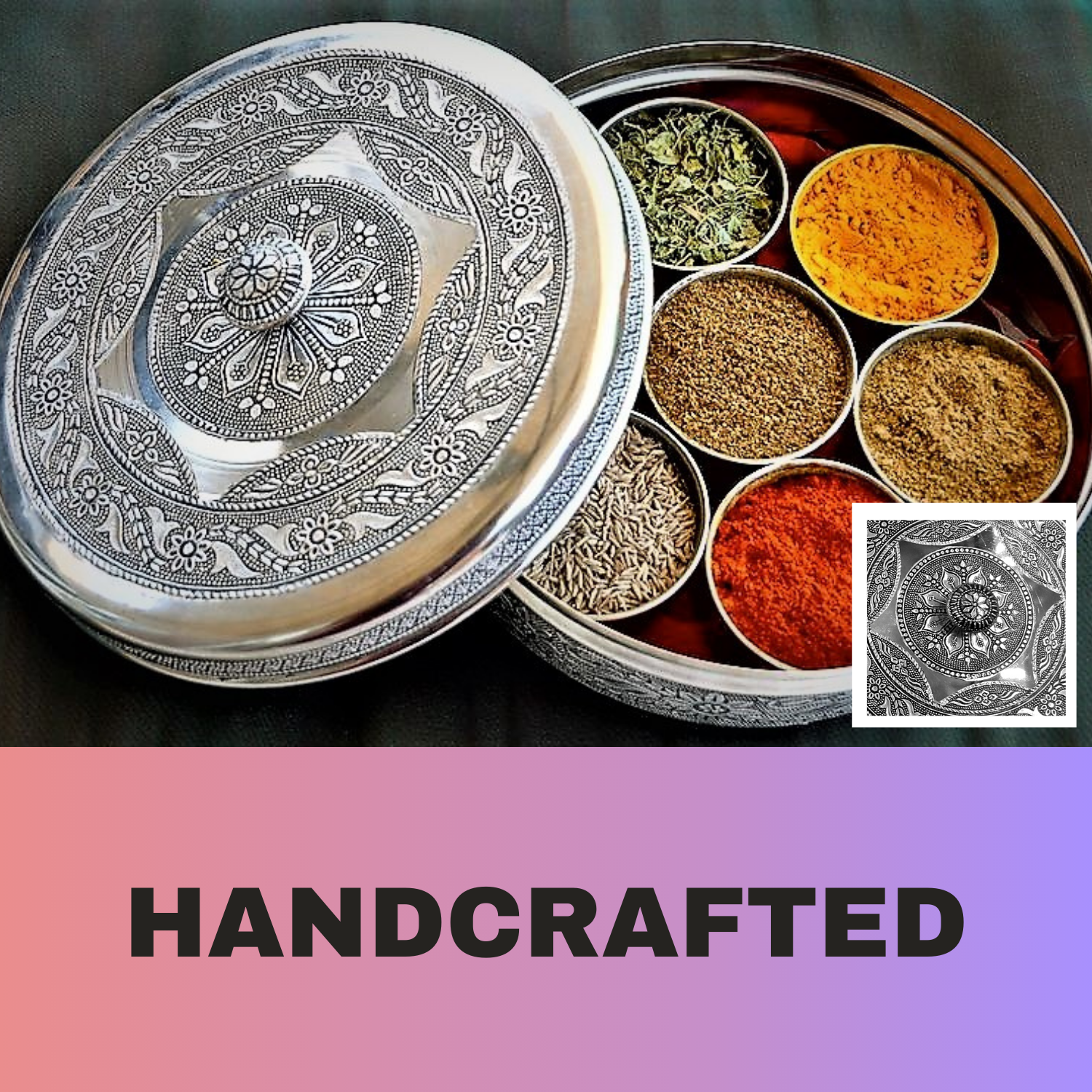 Traditionally known as "Masala Dabba", an Indian Spice Box is a beautiful stainless steel or wooden box containing seven canisters of spice, lids, and a teaspoon to store your spices.
Simply put, a Masala Dabba is a great way to store, preserve and use spices during and after meal preparation for yourself and your family.
If you're a great lover of Indian food, some Indian spice boxes come labelled so each canister is prepared for the right spice that should go into it.
What this spice box does better than any other on the market is to combine culture with accessibility in a way that defies boundaries and appeals to anyone who uses one.
If you're gifting someone who prefers foods from other cultures, the Indian Spice Box Gift serves just as well. There are no strict rules about what should go into an Indian Spice box aka Masala Dabba.
Now that you have some knowledge about the Indian spice box, you're probably wondering why all of this information matters to you and yours.
Indian Spice Box Gift: Why Should I Care About It As A Gift Idea?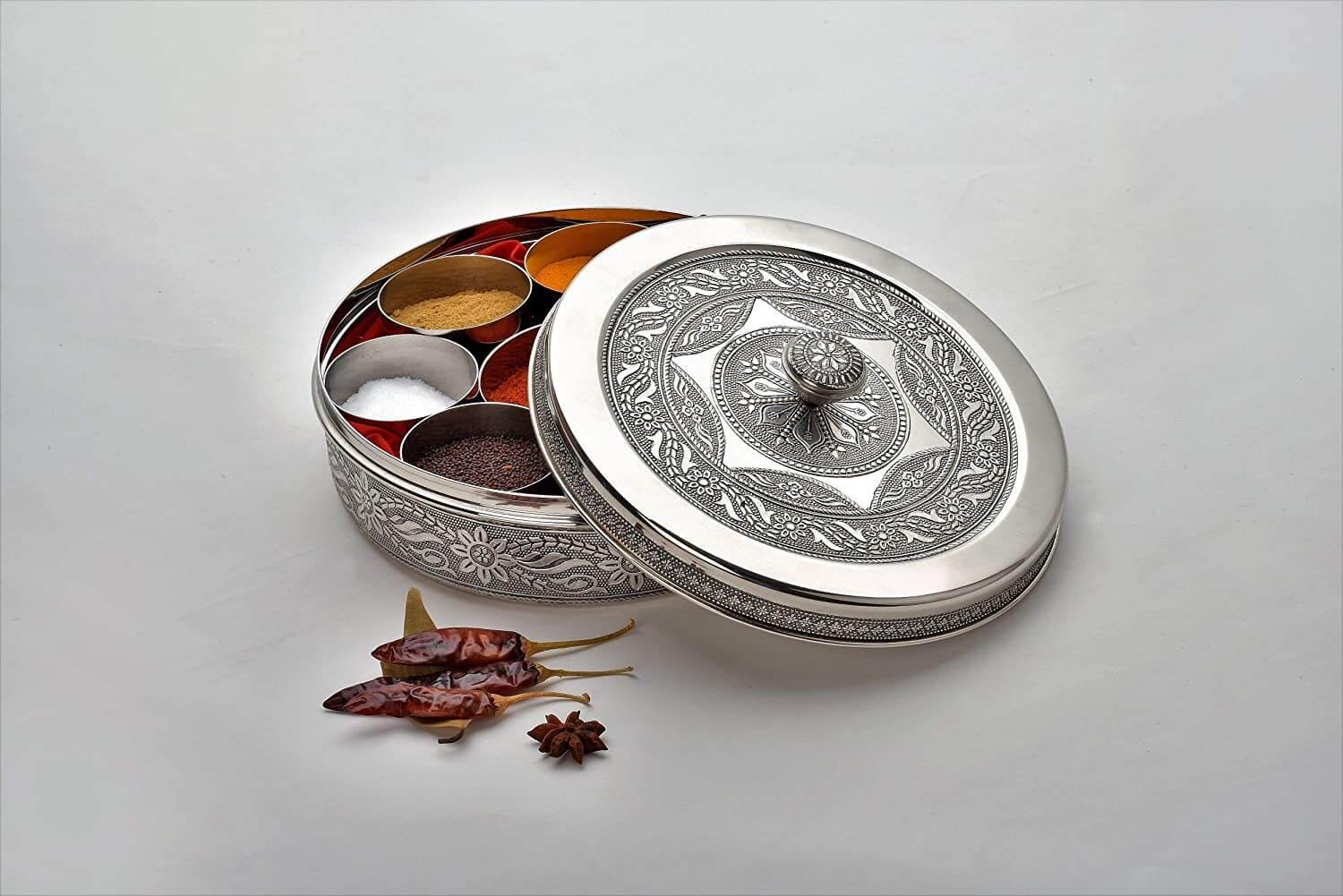 The Indian Spice Box is for one, a historical gift as it is often passed down from generation to generation. This makes the box a quintessential spice box throughout the Indian culture.
Also, the spice box is an artful and simple way to store and access commonly used spices whenever you're cooking meals for your family.
The idea is to place it right beside your cooking gas or stove so you're not scatterbrained and looking for different spice containers while preparing your dish.
So, when buying a Masala Dabba, you're not buying it for your spices alone, you're also buying it for the Indian culture and yes, that's enough reason to care!
Also, gifting an Indian spice box to family, friends and colleagues projects you as a person of culture and exotic tastes.
Indian Spice Box Gift: A Great Health Gift Idea?
Whenever I fell ill at University or spent too many nights up in a row studying for tests, Anjie was always there with a recipe, spice or something that had some Masala in it.
My passion for health care and personal well-being stemmed from my relationship with Anjie; something that I enjoy to date.
If you're looking to motivate someone; a colleague at work, family, your mom or anyone that you love to adopt a healthy life, a fully stocked Indian Spice Box is a great gift option to consider.
The Indian spice box is a safe, healing remedy to many common illnesses. Why? Because a unique traditional Indian spice box contains fresh grounded and whole spices and seeds.
Every Indian home owns a Masala Dabba that contains seven cups of medicinal and essential spices. These essential spices include:
Turmeric powder, grounded cumin and coriander powder, red chili powder, fenugreek seeds, cumin seeds, carom seeds, garam masala, asafetida, mustard seeds, sesame seeds to mention a few. You can read more about seven essential spices which goes to an Indian spice box here.
These aromatic spices aren't meant for bringing lively sizzles to your dishes alone but also, offers medicinal health benefits like:
Help with indigestion
Enable nutrient absorption
Purify your body system
Reduce your chances of anaemia and alleviate the common cold
Serve as a laxative and provide your body with iron (Cumin performs this benefit better)
Relieve common cold, diarrhoea, and poor blood circulation.
Indian Spice Box Gift: A Great Gift Idea Or Not?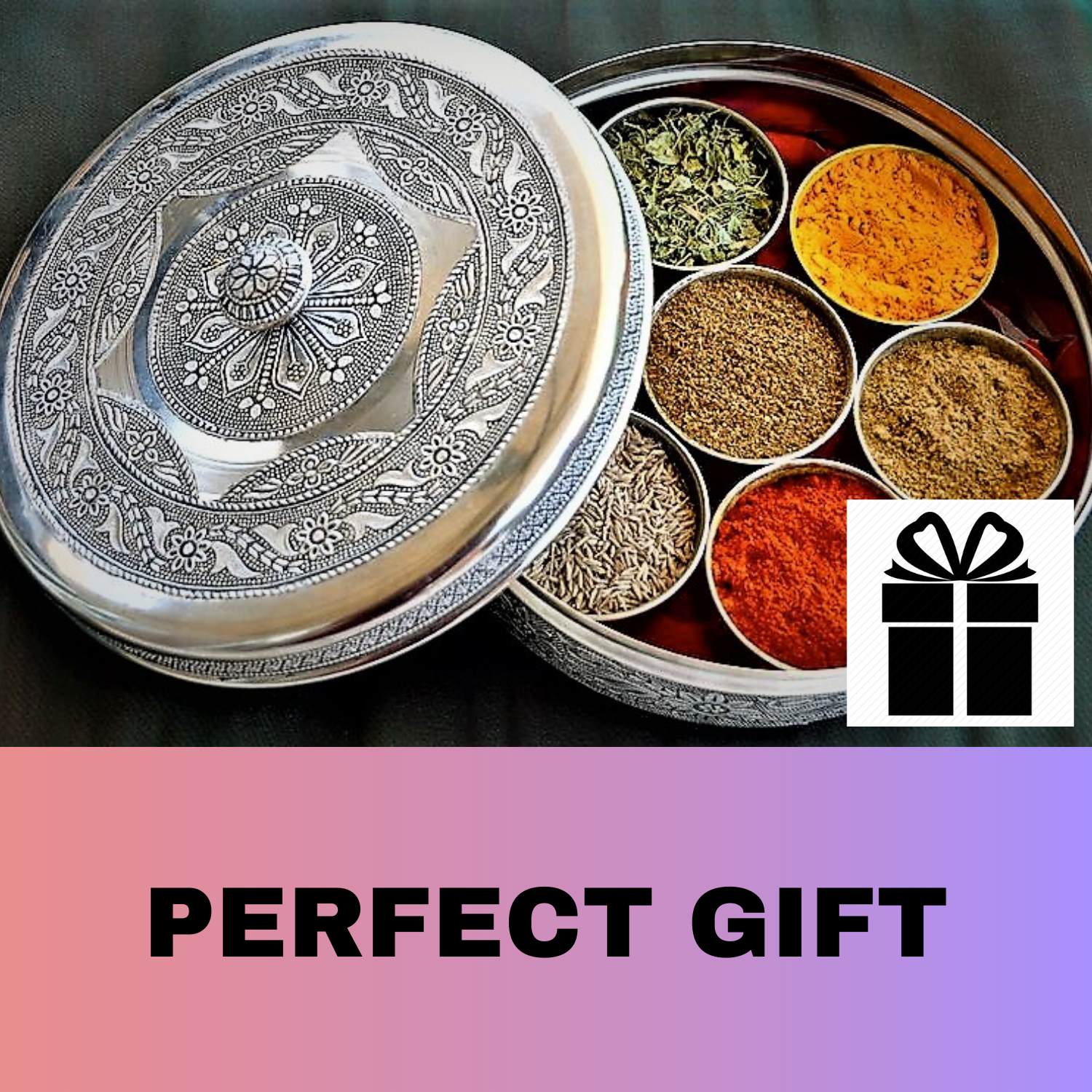 With gifts such as this, the rule of thumb is not to assume that people around you know what the Indian culture is all about.
In fact, some know next to nothing about what the Indian spice box entails. If a gift is meant to excite and stimulate, a Masala Dabba is perfect in that sense.
For whom will an Indian spice box make a great gift?
Well, it'll make a great gift for experienced Indian cooks, lovers of Indian cuisines, and also, it'll work just fine for someone starting out with their culinary journey.
Also, you can fill up the Masala Dabba with essential Indian spices and gift it with the container if you're looking to get someone to eat healthier.
Furthermore, the Indian spice box is a great gift for any occasion such as Christmas, Mother's Day/ Father's Day, Birthdays, Valentine's Day, or just any occasion of your choice.
Indian Spice Box Gift: Who's The Most Ideal Person To Gift?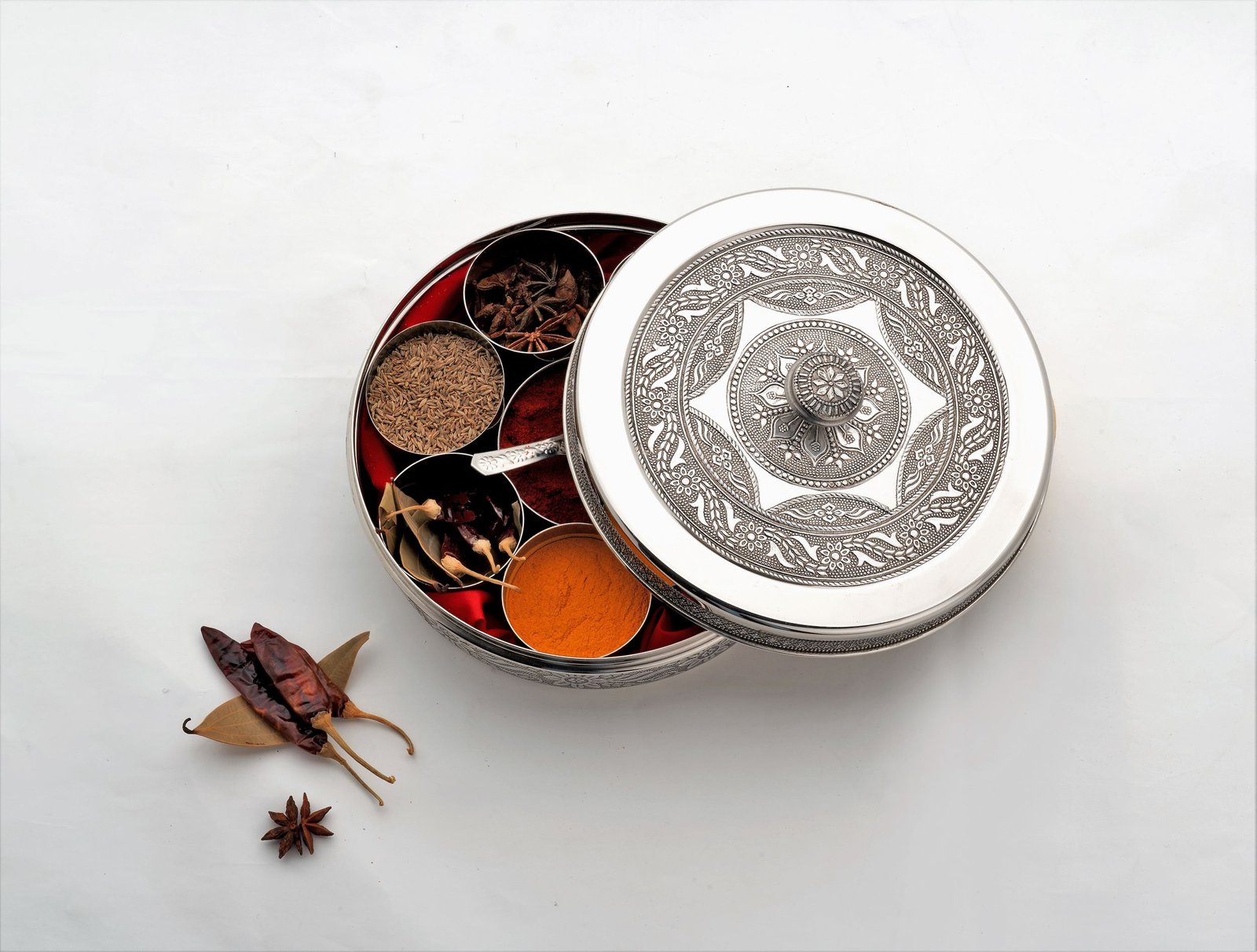 Anyone. The Indian spice box is an ideal gift for yourself, a family friend, your family, a starter in Indian culinary, a sick patient, etc. Literally, anyone would be pleased to receive the Indian spice box.
What if they don't like it? Well, you can ask mutual friends about the things they may be interested in and get or make something along those lines.
Summary And Conclusion
Indian spice boxes are an item of cultural significance to Indians and other cultures that stem from the Indian continent.
They've endured through the ages as a great way to store spices, medicine and other powdery substances that are useful for preparing meals.
If you're gifting someone who spends any amount of time in the kitchen, you should consider the models on Actieo as they're original, hand-crafted by generational experts.
Indian spice boxes come in stainless steel and wooden and for your convenience, we've prepared a comparison here.
Other than being safe and reliable for the storage of spices and other powdery cooking items, Masala Dabba offers a health care nudge to your loved ones.
So Indian Spice Box Gift is a great idea for anyone who love to have it.