Which One To Choose Between Glass Spice Jars Or Stainless Steel Spice Box?
Do you have a flair for traditional Indian dishes but struggling to choose between the glass spice jars or stainless steel spice box for your kitchen? 
Worries gone. I'm here to your rescue! When it comes to Indian recipes, it's a popular notion that the Masala Dabba is always and always a must-have for every Indian home. 
Whether you are Indian, love Indian foods, have Indian friends, or just love to cook both Indian and non-Indian dishes, then, the Masala Dabba is a MUST have for you.  
Although spice boxes are fascinating artefacts in themselves, it's always an extra thrill to shop for them and be confronted with a choice between glass spice jars and stainless steel spice box. 
While shopping for spice boxes is a great joy of my life, I'm aware tons of people would much rather spend their hours doing other things.
To that end, we'll describe the Masala Dabba for those who have no knowledge and do a simple comparison so your next shopping trip is as easy, rewarding and enjoyable as possible.
Masala Dabba: A Very Brief Introduction
A Masala Dabba (Indian spice box) could be in a stainless steel form, a wooden box, or a glass spice jars containing seven small spice cups, a tight-fitting lid, and a teaspoon. 
These containers are great for storing your spices because they make it possible to quickly and easily access them whenever you're cooking without making that much of a mess.
While Indian spices store well in a Masala Dabba, you can also store your non-Indian spices in them depending on the types of meals you cook the most.
An indigenous Masala Dabba comes in stainless with a tight-fitting lid. It is usually between six inches and twelve inches in diameter with a portable teaspoon for each spice container or for all the spice containers.
A Masala Dabba is typically round with a deep stainless steel container, fitted with seven bowls, each containing different spices and the whole box covered with a glass lid.
Masala Dabba: Stainless Steel Spice Box
The stainless steel Masala Dabba spice box is an ideal spice box to master your Indian food recipes. Typically, this spice box comes in a 7.5-inch diameter and has a height of 3 inches with seven spice containers. 
However, you should know, sizes may differ depending on manufacturing specifications or specific vendor/craftsman who produces the item.
Typically, each spice container has a diameter of 2.25 inches and a height of 1.5 inches. Also, the stainless steel masala dabba comes complete with seven containers, one box, one spoon, and two lids, all carved out from fine stainless steel. 
This unique box of perfection is designed for ergonomy and durability and is designed in such a way that makes it extremely easy to handle, hence, creating a perfect storage for your frequently used spices.
If you're thinking about buying a stainless steel Masala Dabba, here are a few reasons why it's a good idea;
Pros Of Buying Stainless Steel Spice Box Masala Dabba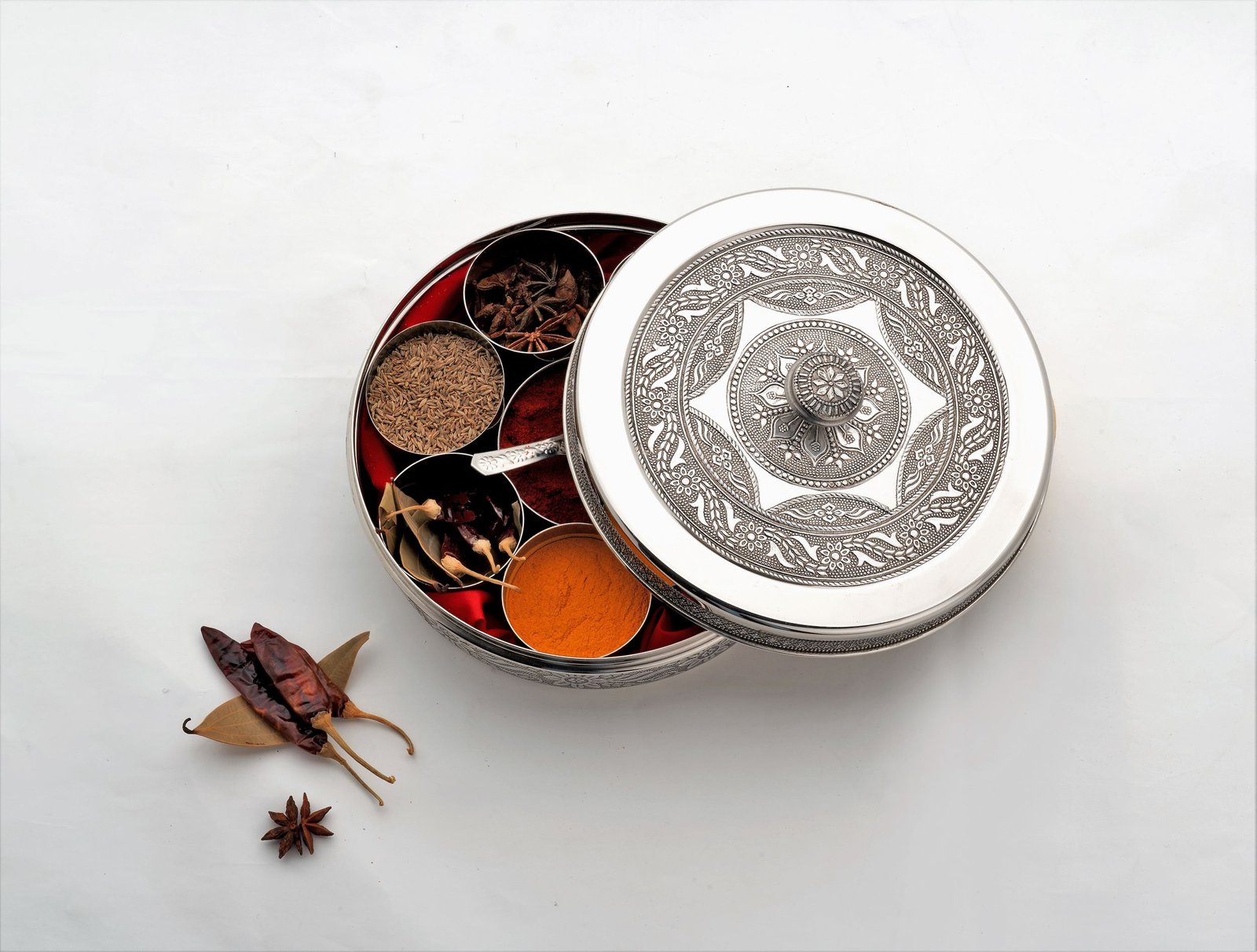 It is carved out from high quality stainless steel materials which ensures its strength, quality, and durability
Because of the food-friendly coating material in stainless steel spice boxes, they tend to keep the spices fresh, making them last much longer than usual
Its unique double lid design aids to retain the aromatic freshness of spices
It is dishwasher-friendly due to its stainless steel nature. Thus, it is easy to clean and store different spices in them
Cons Of Buying Stainless Steel Spice Box Masala Dabba
The stainless steel masala dabba gets rusty after a long time or after coming in contact with water because of its stainless steel nature
It is unavoidably sensitive to sharp objects, making it susceptible to being badly scratched during shipping or by kitchen objects
Glass Spice Jars
The Glass Spice Jars comes with about nine to twenty-four waterproof spice jars, lids, metal caps, and a silicone funnel to help transfer or refill spices. 
These Glass spice jars are incredibly rare and typically made from high quality, lead-free, and durable glass. Glass Spice jars have a significant glass component that make great gifts. 
They're also really cool to look at so if you're up for an order, they can really light up your kitchen with a touch of aesthetic brilliance and poise that most kitchens simply do not have.
Personally, when I've bought a glass spice jars from India, I've given it as a gift to friends and family and the one that lives in my home is carefully stored away for a special occasion. 
Glass spice jars also make a great addition to your dining table whenever entertaining guests or have visitors over. 
Pros Of Buying Glass Spice Jars
They are portable and can fit into kitchen drawers
They're incredibly rare and make great gifts as a result
It has an exclusive sift and pour shaker lids that help you pour spice accurately
It comes with a specially designed food grade silicone with a large opening for fast pouring of spices
It has a pre-printed round spice label which lets you label and identity your spices differently
However, you should know, there are risks to buying and owning a Glass Spice Jars 
It can break easily if not properly handled
Dirt could be trapped under glass tops if not properly cleaned
Some glass models are not air-tight and can be bad for spice freshness over time
Rare to find and expensive as a result
Summary And Conclusion
After all, I've found Glass jar spices boxes to be extremely useful for professional hosting or large scale food catering.
However, I've found that stainless steel spice boxes are a tad more practical for everyday home use but that's just me.
If you live in a home that's professionally catered and has highly influential guests often, by all means, seek out and buy the luxury, glass spice jars. 
All things considered, both boxes have tons of advantages and a few risks and depending on your use case, you'll most probably find one that suits you just fine.
Please do well to check as many websites as possible to balance out what you learn from here and make up your mind as to what the best options are.
Personally, I've found this to be an invaluable guide on my journey of constant discovery with spice boxes. Take care and enjoy!