Great Spice Organization Ideas for you  
For many people, it is common knowledge that a sprinkle of asafetida or a pinch of turmeric into your dish can make it into a beautiful meal but, how about carefully arranged spice jars on your counter or inside your cabinet? 
Overtime, spices have quickly converted into something that intrigues us to experiment with so many recipes in order to fulfil our quest for everyday living. 
However, as loved as spices have come to be in many cultures, storing them without any definite arrangement may be a false way to experience the whole and lasting memories that come with creating amazing cuisines.
Because of this, it is recommended that you store your spices in ways that would not only let you find them easily but also, elevate the ambience of your kitchen. Personally, placing my spice jars in my drawers does it best for me.
In my former home, I found it really difficult to reach my spices and got so sick of leaning on my toes whenever I had to cook something delicious for my family.
Since then, I've had new furniture put in that helps me move down my spice jars from my cabinet and helped me carve out a really nice slide-out drawer for my spices.
Here's what having a great spice organization can do for you;
You can use your spices with a wider range of foods when they're easily accessible:
If you can reach your spices easily, it is likely that you'll use them more often and introduce the medicinal and herbal effects into a wider range of foods. In this sense, accessibility to your spices can lead to a healthier life for you and your loved ones.
Cooking becomes a personal form of therapy that you can enjoy by yourself:
If you enjoy making food, you've probably been caught by its therapeutic quality at one point or the other. If your spice boxes are seamlessly integrated into your kitchen, you can deal with meals personally without external disturbance. 
This means that if you derive personal satisfaction from the cooking process, you can go through the complex series of processes without relying on other people and maintain the calm that you feel when you cook.
Helps you build ease and accessibility into your cooking process:
For many people, cooking can be stressful! Having great spice organization means that you spend less time reaching for things and spend more time enjoying the process of cooking instead.
Helps to keep your kitchen clean at all times:
If you hope to maintain hygiene at all times in your kitchen, spice organization is a great first step. Why? Spice organization tools are relatively cheap to build and improve your life by ensuring that you're able to keep a clean cooking environment.
This means that with the right spice organization, you can keep a clean kitchen and maintain high levels of hygiene and healthfulness for your family.
Keep your spices away from the reach of children:
If you're a parent or a primary carer for children, it'll be important to keep them safe by keeping an organized kitchen. Although spices are great for people of all ages, they can cause injury if they are over-exposed to children.
Here are a few options for spice organization that you may find useful;
Slide-out drawer:
A drawer with slide-out trays has become one of the modern conveniences that integrates seamlessly with standard safe building codes as well as a wide range of kitchen designs.
Personally, I've opted for slide out drawers because they're easy to buy, use and install. If you're looking to spend as little as possible, slide out drawers might be your muse.
Slide-out drawers have made it possible for me to store spice neatly, safely out of reach of my kids and reach them easily when I've needed to cook something.
Also, with this design, the standard drawers can contain your frequently used spices and still retain spaces for you to store other items that you wish to preserve.
Pros.
Already part of the standard kitchen set up
No further installations required
Works well in a fairly large space
Extremely practical and easy to access
Cheap
Cons
Might be a hassle if you're working with a smaller kitchen
Not an aesthetic or luxurious option
You can browse other spice drawers on Amazon here.
Cabinet:
If slide-out drawers are not your cup of tea, cabinets can offer another simple solution to the problem of storing your spices over long periods of time.
Although there's a lot to be said about the beauty and aesthetic value of placing your spices in a glittering cabinet, they are also great and affordable ways of displaying your spices and as well, storing them.
However, you should make sure to consider the space and length of such cabinets. This is because you don't want your spices heating up or their jars sweating whenever you're preparing your dishes.
You want to place your spices carefully in your cabinets in such a way that you can easily reach out for them without obstructions and make use of them when you need to.
Depending on your personality, your cooking style and your kitchen ambience, you can choose to arrange your spices by labelling them alphabetically or based on how frequently you use them.
Pros
Luxurious
Adds a beautiful touch to your home
Easy to use
Accessible
Cons
Usually more expensive than other arrangement types
May require a fairly large kitchen to pull off
May be expensive
You can browse other spice drawers on Amazon here.
Countertops:
If there's anything I've loved when I've experienced countertops, it is the fact that you can choose to place it anywhere you wish, as far as it's safe and convenient for you.
For one, you can arrange your spices in ways that suit you and most possibly, in ways that makes them easy to access.
Countertops come in different shapes and sizes and depending on your preferences, you can choose to place them in your kitchen basement, close to your plate rack, beside your cooking gas, or just anywhere you feel it's safe and convenient.
Also, you can display your spices according to the dishes you're most likely to prepare or according to how often you're likely to replace your spice jars weekly or monthly.
If you own a really small space, you can opt for your cupboard top or fridge as a means of organizing your spices.
If you're passionate about cooking, it's likely that you'll arrange your spices in such a way that you can quickly access, secure and organize your spice bottles in the most optimal way.
Pros
Works well in smaller spaces
Easy to use
Functional and accessible
Generally cheaper than cabinets
Great for students and temporary live-in guests
Cons
May offer little or no aesthetic value
You can browse other spice drawers on Amazon here.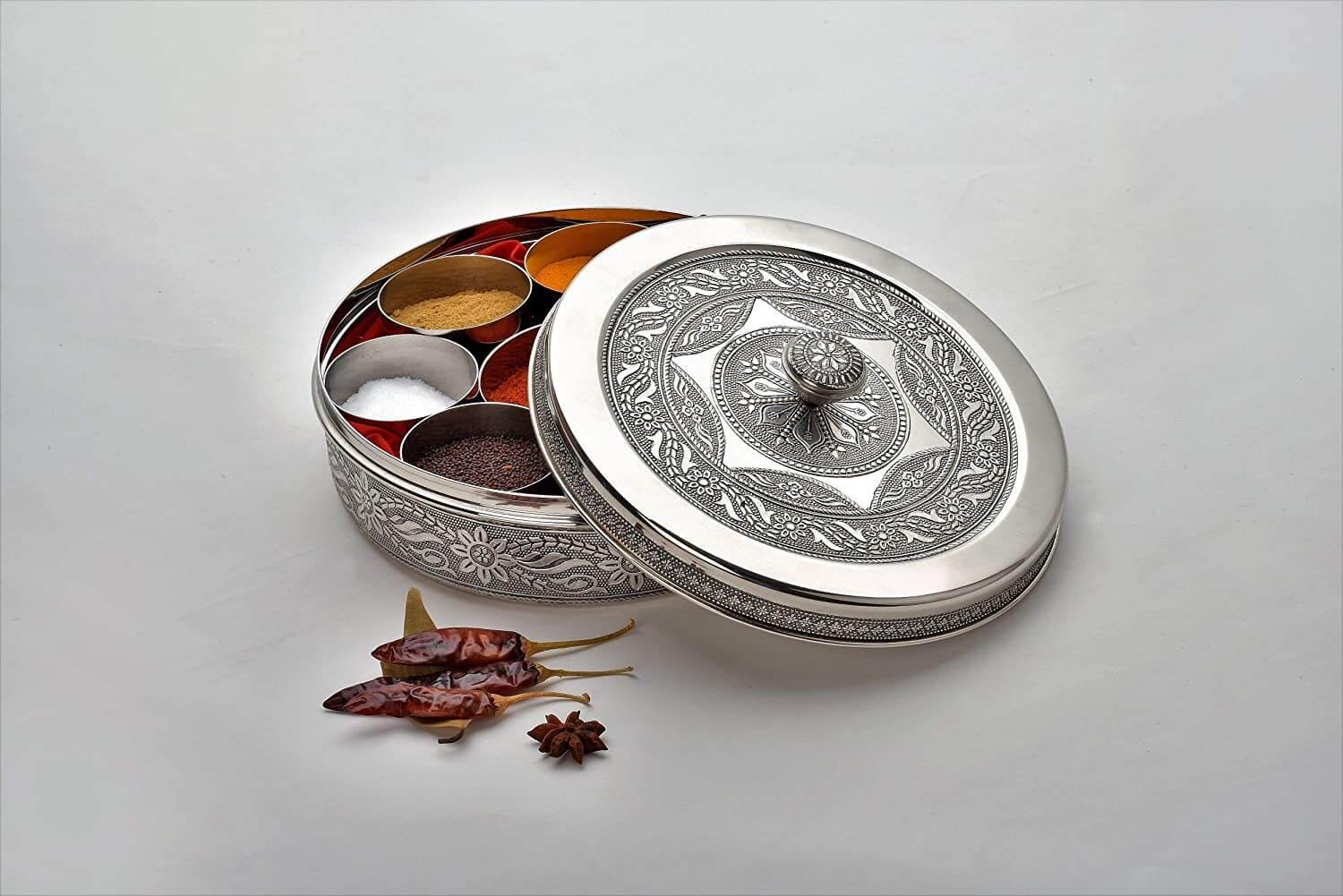 Summary and Conclusion
Getting your organization right when it comes to your spice boxes is often overlooked during planning, moving and settling down.
However, if you're looking to enjoy the best possible experiences in your kitchen, having your spice boxes in the right ergonomic space can make all the difference.
Not only can this arrangement improve your health and well being, but it can also add aesthetic value and beauty to your kitchen space.