How to choose modern spice jars?
Spice containers help you (if you're a cook of any kind) store spices and keep them fresh for use over long periods of time.
While there are antique spice containers that have a long history of use, old design patterns, and a fairly durable build, modern spice containers are designed with current cooking and kitchen trends in mind. 
If you've just begun your journey with spices and are searching for something that'll keep them fresh and blend perfectly in terms of design and access into your current lifestyle, you should check out modern spice boxes as they provide meaningful solutions to the problem.
When you're shopping for modern spice jars, you should make sure to consider what variables are most important based on your current situation.
Do you live in a small apartment?
Do you cook for a family?
Do you have children?
Questions such as this help you streamline your decision-making process and put you in the best position to derive value from modern spice containers should you opt for one.
Personally, when I've opted for the modern spice jars, it's been a better visual experience and I've benefited from design trends around transparency and access that make storage and use of spices a breeze.
If you're looking to buy modern spice jars, you should know that they come in sets that have between 3-16 storage boxes/cylinders. Once you've figured out how much space you actually need, buying the right spice container becomes a lot easier.
Fortunately, there are a couple of brands out there offering different shapes and sizes of spice containers. Etsy, Actieo, and Amazon are some of the premium sites you should consider.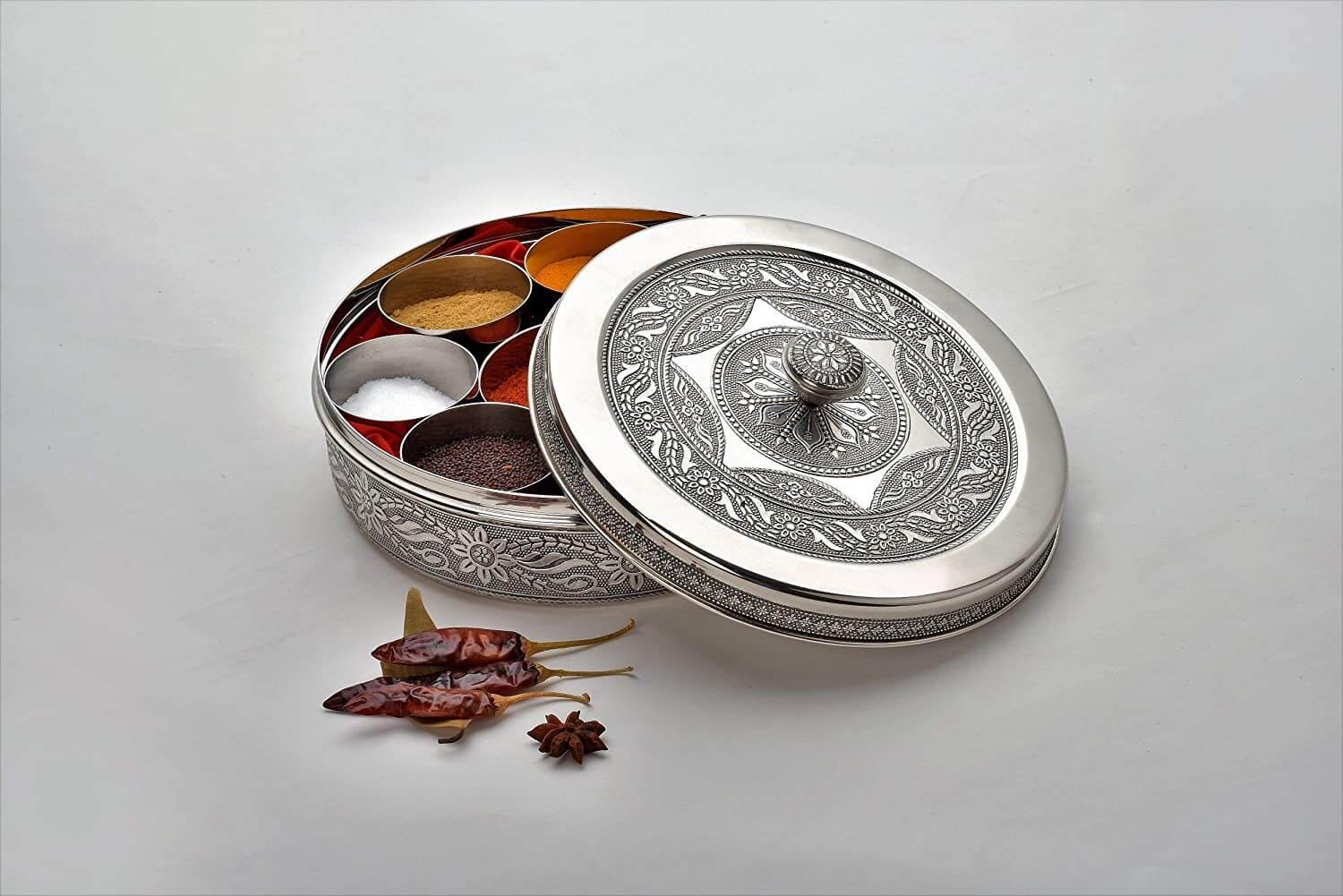 Modern Spice Jars: What are they made of?
For modern spice jars, one would think that they'd be purely made from the latest technological materials and equipment.
While you'll find modern spice jars in just about every shape and size, opting for one that has features that optimize for safety, accessibility and durability will probably serve better in the long run. 
Personally, when I've bought a spice container, I've selected the transparent, heat-resistant glass designs that make it easy to track my spices and provide a classic touch to any kitchen.
However, some modern spice jars feature retro-style designs that are inspired by nature and sometimes, history or tradition.
Whatever you do, know that its modern look and feel is no guarantee of superior quality and so, make sure to check out its materials and the safety features that'll serve you post-purchase.
Some questions that might be useful to ask include;
Is it dishwasher friendly?
Is it microwave safe?
Is it corrosive?
Does it retain smell?
Once you've asked and successfully answered questions such as this one through research and checking out critical reviews in comment sections, you should be all set to purchase your modern spice container.
Modern Spice Jars: Why would you want one?
Keeping tons of spices on hand in the kitchen is essential for uplifting delicious meals, but how about storing them ahead of another delicious meal?
This question is exactly why you need modern spice jars! If you're looking for a way to keep your spices properly organized and streamlined in one piece, then, an amazing set of spice containers is what you want to consider.
Other than storage in a modern spice container, you can decide to utilize them by using them as decors for your kitchen when you choose to leave them empty in a significant spot for the ambiance and aesthetic value. 
Another option is to place them at the center of your sitting room table or your dining table. Trust me, you're going to like how it looks and you don't have to move spice boxes between the kitchen and dining anymore.
Besides all the food-based use cases, spice containers have been converted successfully into jewelry boxes. Jewelry you say?
Gold, silver, and other precious metals thrive in clean, properly aerated environments and spice boxes provide the perfect blend of a germ-free, dry environment and an aesthetic container for your valuable metals. 
As you think through your needs, remember, it's your spice container, so you may suit yourself once you've made a purchase! Modern spice containers are mostly airtight, so you never have to worry about air penetrating into your spices or jewelry. 
Whatever your use case is, you should know a spice container can certainly store it properly and have it looking fresh, dry, and attractive once you're ready to use it. 
Modern Spice Jars vs Antique Spice Containers: Which one is better?
What will serve you the best depends to some degree on why you need one in the first place. With that in mind, here are a few pros and cons of the options you've got.
Modern Spice Jars: Pros
Comes in the latest design
Comes complete with better technology and improved features
Relatively cheap compared to antique Pieces
Modern Spice Jars: Cons
May not be as durable as antique material
Has no extrinsic value
May come in a generic design
Antique Spice Containers: Pros
Comes with a unique design and build 
Has extrinsic value 
Has resale value 
Maybe durable 
Antique Spice Containers: Cons
May be too expensive 
Maybe less aesthetically pleasing
No replacement in case of loss 
Summary and Conclusion
If you're struggling with the choice of which is more ideal for you between the antique spice containers and the modern spice jars, know that your choice should depend to a large extent on your need and the specific use case.
Whether you're storing your spices for immediate use or keeping them for future usage, modern spice containers are great choices for preserving fine spices and also, organizing them.
Not only are they pleasing to look at, but they can also be used in diverse ways to store both spices and valuable items such as pieces of jewelry. Hence, they've got benefits that'll more than compensate for your investment.
Also, some modern spices are made from high-quality materials that stand the test of time and withstand harsh weather conditions or temperatures.
Whatever you do, make sure to do some research about your product materials and compare reviews across different websites for the best possible experience.