Indian Spice tins: A Perfect Gift Item
If you have any love for the Indian culture or any of its artefacts, it is likely that you've had to interact with indian spice tins at one point or the other.
An Indian spice tin is a storage item that is used to keep spices and other items of food dry and fresh for cooking.
Personally, even though I had spent so long learning about the Indian culture and participating in its beautiful narratives, I hadn't seen or used one until last year.
If you're like me, you've had all sorts of spice boxes and a whole spice set up for your kitchen but Indian spice tins are still a myth to you. If not, you'll want to stick around and see how this ends.
Either way, at the end of this post, you will have more of a sense of what they are and how you might benefit from owning one.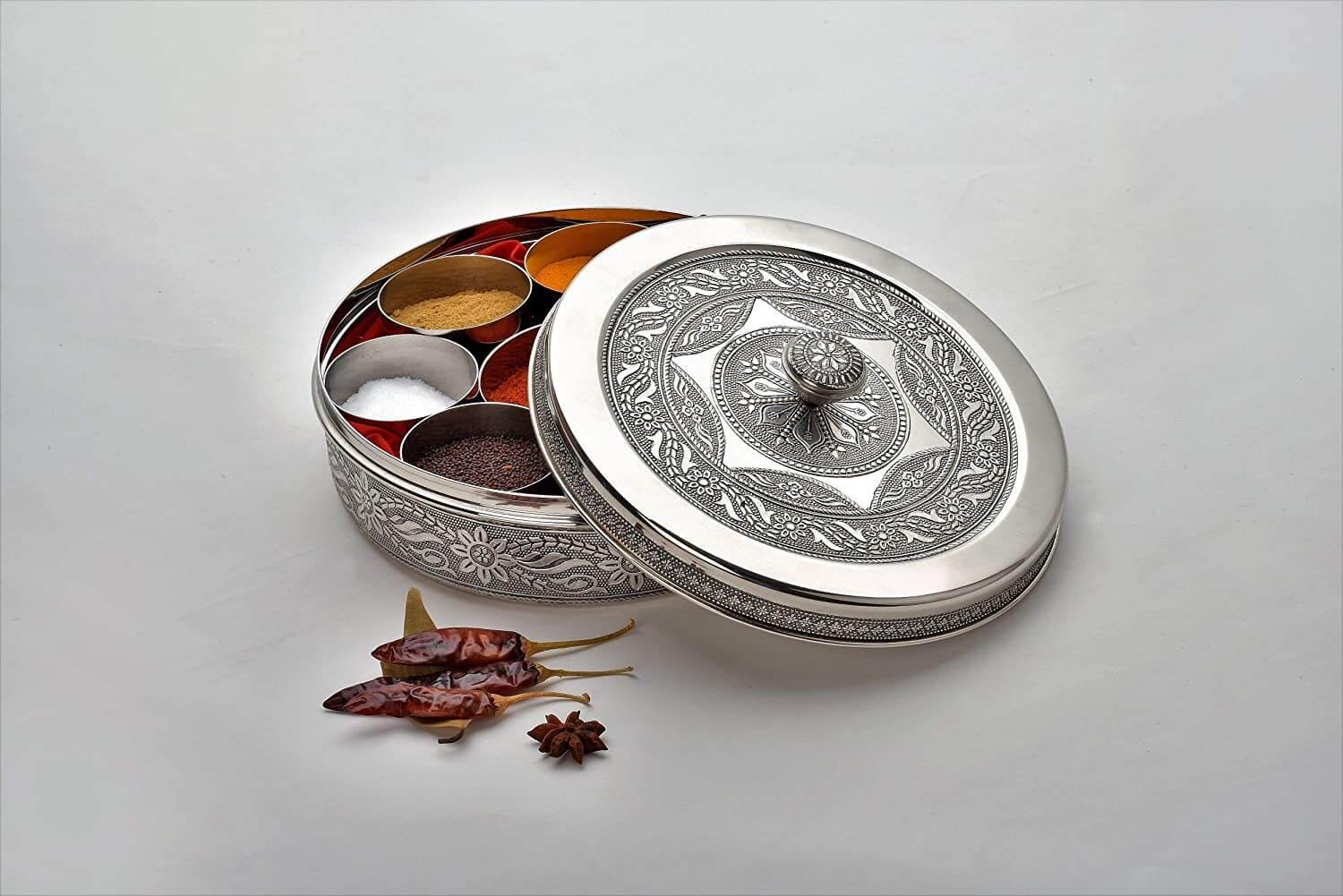 Indian Spice tin: What you need to know?
Once I had understood how to cook with and use the Masala, I started to buy and use spice boxes for my cooking.
Indian spice tins like spice boxes are known as Masala Dabba and only differ from the spice boxes because of their size, build and design.
If you're having doubts about buying a spice box for your space or dabbling with indian or spice heavy meals, a spice tin is a great way to explore the culture and its many gifts without a significant investment.
Just like Indian food, indian spice boxes and tins have spread far and wide beyond the indian continent and are a useful part of many kitchens all over the world.
Unlike spice boxes, spice tins may be purchased in single units. The advantage of this is to limit your tin to the spices you use often or prefer.
If you're just starting out your culinary journey and require simpler tools to start with, spice tins are a perfect option to consider.
If you're a traveller who loves to cook, spice tins are a portable option which will serve you better on the road. Students and live-in guests can also hop on the Spice tin bandwagon as they serve temporary living spaces properly.
Spice Box Vs Spice Tin: What is the key difference?
Spice boxes are similar to spice tins in every aspect except the following;
Size: While spice boxes tend to come as multiple tin fixtures in a box-like container, spice tins are often sold as single cylindrical units.
Space:As a result of their size, spice boxes will likely take up more room in your cooking space. On the other hand, spice tins are smaller and more portable.
Pros of spice tins
They're portable
They are ideal for a temporary live-in situation
They are ideal for students and travellers
Ideal for beginner cooks
Cheaper compared to spice tins
Cons of spice tins
They are NOT ideal for larger kitchens
They do not enhance the organization
They offer significantly less storage space than full spice boxes
Who should opt for a spice tin?
If you're just starting your journey with spices, tins can help you zero in on specific interests before you commit to a larger spice box.
Also, if you're a student and live away from home, you'll most likely have less space than the average homeowner and so, keeping portable cooking items makes sense.
If you love indian food and lack the budget for a full spice box, a spice tin will serve exceptionally well in its place.
Indian Spice tins: What spices should you look out for?
If you've decided to buy a spice tin, you'll need a bunch of spices or atleast one to start your cooking off with.
The key thing to do here is figure out what recipes you're looking to spend a lot of time cooking with and aim for the spices that properly complement them.
I know what you're thinking. These spices work as well in your tea as they do in your soup. I know. But if you're spending any time cooking, you'll find that some work better for certain meals than others.
Some of the tips that'll help you get the best of your indian spices include;
If you're looking to make indian delicacies, buy an indian cook book. Although we make do with tons of learning sources on the internet today, cookbooks are often packed with a lot of practical details that a 2 minute YouTube video may not.
Use one spice first and then check out another one. When it comes to cooking, you'll need to experiment with controls in mind. Starting with the basics means that you're not overextending yourself and allows for incremental learning.
Cook something small everyday. Like with everything in life, you'll need some practice before you can start dishing out delicacies. Stay patient.
Some of the most popular spices include;
❖ Turmeric
❖ Red chili powder
❖ Cumin powder
❖ Garam Masala
❖ Cumin seeds
❖ Black mustard seeds
❖ Coriander seeds
❖ Asafetida, to mention a few.
Click here to check in detail: Which Spices Are Great To Include In The Indian Spice Set?
Indian Spice Tin: Use and function
Cooking with a Spice tin is not unlike any other item in your kitchen. For the most part, you need no professional experience to make use of the Indian spice tin. What should you do?
❖ Consider your personal schedule and which spices work best for your daily meals
❖ Set aside your frequently used spices
❖ Pour them compartmentally into your spice boxes
Summary and Conclusion
Although spice boxes are the generic category for spice storage and dominate in many homes, spice tins are just as important and can serve an important purpose in many cases.
If you're a temporary live-in guest or a student and love to cook, you'll get tons of value from a portable spice tin. Travellers will also enjoy the use of this awesome tool.
If you're looking to buy affordable spice tins, you should check speciality sites such as Etsy, Actieo and Amazon as you'll find many interesting options.